Welcome to TFrankMcCalls.com

Your One source for all of your Janitorial, Sanitation, Paper and Safety Products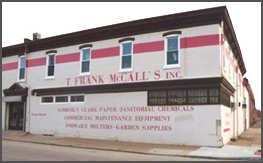 Thank you for visiting our website! It is our hope that we can be your janitorial/paper distributor of choice.
We strive to be the easiest distributor to do business with by providing great personal service, quality products and competitive prices.
We answer our phones and do not have voicemail. Every employee is expected to make emergency customer deliveries when necessary and we always follow up!
Please take a look at our online catalog and suppliers list then give us a call at 610-876-9245. We also have a retail store for you to shop in. Come see our original seed bins! We look forward to hearing from you.
Delivery Area/Schedule
Greater Philadelphia Area – Monday, Wednesday and Friday
Delaware County – Monday, Tuesday, Wednesday, Thursday, Friday
Chester County – Monday, Wednesday and Friday
Montgomery County (Allentown/Bethlehem) – Monday and Thursday
South Jersey – Tuesday
North Jersey/Bucks County – Thursday
Delaware, Maryland & Western Chester County – Tuesday and Thursday
If you need a delivery not on your scheduled day, call us, we will work something out to get you your product.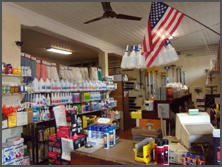 Minimum Order
$200.00 minimum order is requested for free freight in our delivery area. Orders under $200.00 will be charged a $20.00 delivery fee. Orders out of our delivery area will be charged current freight rates.
Visa, MasterCard, Discover, and American Express
We gladly accept Visa, MasterCard, Discover, and American Express
Guarantees and Warranties
All manufacturers' warranties are passed directly to our customers. All merchandise is sold without warranty or other liability of any kind, except as expressly stated on, packaged with, or accompanying such products.